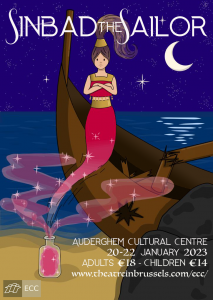 The ECC is proud to present Sinbad the Sailor at the Auderghem Cultural Centre from 20-22 January 2023!
Get ready to set sail for a panto adventure unlike any you've experienced before! Let Sheherezade our story-teller weave you the magical tale of Sinbad and his friends, whose voyage takes them from the shores of exotic Knokke-le-Souk to far-off lands where they face perils and enchantments untold... with a lot of laughs and songs along the way...
January 2023:
Friday 20th - 8pm
Saturday 21st - 1.30pm & 5.30pm
Sunday 22nd - 1.30pm & 5.30pm
Tickets:
Adult 18€
Child 14€ (Child tickets valid for ages 0-15).
For any questions about group bookings and payment issues, please email eccsinbad@gmail.com