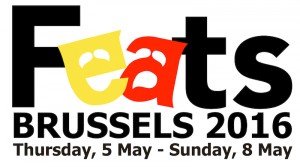 The ECC is delighted to be hosting
FEATS 2016
: the Festival of Anglophone Theatrical Societies at the Woluwe-Saint-Pierre Cultural Centre from 5-8 May 2016. The festival will have three one-act plays each evening, starting at 19:30, followed by an adjudication and prize ceremony on the final night.
Tickets are €20 per night, with €70 season tickets available for all four evenings of the festival. Cast and crew for performing groups can buy tickets for the whole festival for €50. Student tickets are also available at €10 per evening / €35 for a season ticket (with Student I.D., up to 25 years of age). To book season tickets, just select the Thursday evening and then choose Season Ticket.
You can pay for tickets by credit card or reserve tickets and then pay for them by bank transfer to English Comedy Club: 310-0627727-29 (IBAN: BE26310062772729, BIC: BBRUBEBB), stating FEATS and the email of the person booking the tickets (use AT instead of @). You will be sent your tickets by email when we have received payment.
If you have any problems using this booking system or wish to book for large groups, please contact tickets@ecc.theatreinbrussels.com.