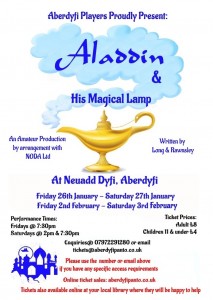 Our journey this year takes us from the streets of Old Peking, to Palaces, Dungeons and Tombs. From dry arid deserts to noisy, colourful busy streets.
Come along and join in the booing and hissing at the nasty Abanazer as he tries to trick our wonderful pantomime hero Aladdin into stealing an amazing magic lantern containing a Genie who will grant his every wish.
Enjoy the fun and frolics of Dame Widow Twankey, her hapless right hand man Wishee Washee and his lovable pet Pandas Kung & Foo.
Find out if the famous Chinese detective Charlie Chan, and his Number One Son Chin-Chin Chan ever catch the evasive Aladdin who is determined to sneak a peek at the beautiful Princess Jasmine.
It's a fun filled, hilarious adventure that will have you hissing, booing, cheering and laughing all the way to the inevitable happy ending.
Friday 26th & Saturday 27th January 2018
Friday 2nd & Saturday 3rd February 2018

Performance Times:
Fridays at 7:30pm
Saturdays 2pm & 7:30pm
Tickets:
Standard £8, Children (11 and under) £4