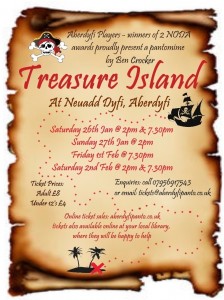 By Ben Crocker
This year we're sailing the salty seas in search of treasure.  Not just any treasure, oh no, this is the shipwrecked treasure of the bloodthirsty pirate Captain Bloodheart! 
All aboard the good ship Hispaniola for a rip roaring adventure with pirates, parrots and of course the Smugglers Cove WI. Who will win in the epic battle of good vs evil. Will Captain Long John Silver and his band of cut throat pirates outwit the nutty but warm hearted Dame and her son Jim? 
Will the Squire and his lovely daughter Jenny survive being washed up on the shores of Treasure Island? And will the ladies of the WI turn out to be more interested in finding gold than finishing icing their cakes? 
All will be revealed when you join us for fun, laughter, boos and cheers at this year's Aberdyfi Players pantomime of Treasure Island.
Saturday 26th January at 2pm & 7.30pm
Sunday 27th January at 2pm  
Friday 1st February at 7.30pm
Saturday 2nd February at 2pm and 7.30pm

Tickets
 Standard £8, Children (Under 12) £4