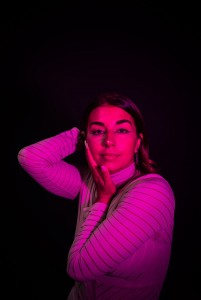 CROWN//تاج is the UK's first touring production by Company Scheherazade combining classical Persian dance, contemporary dance, and Sufi movement to tell a story of displacement, identity, and body sovereignty to an original soundtrack of live classical music and electronica.

Using Persian miniatures, lived experience and the poetry of Forough Farrokhzad, the 3 lead dancers take the audience on a journey from determination through struggle to release. Finding courage, resilience, and joy along the way.

Maria Tarokh directs this female-led production on its inaugural tour. The cast feature brilliant contemporary and classical dancers and virtuoso classical Persian musicians to bring you a moving, exhilarating, and energetic experience.

Co-produced by Dartington Arts and commissioned by Counterpoints Arts. Supported with funding from Arts Council England.

Running time: 60 minutes

Suitable for 14+

Content note: The performance does not include any visuals that adults or children may find disturbing. However, it does deal with adult themes and the soundtrack features some heavy bass.

All tickets are £5 only.