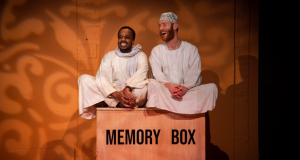 PSYCHEdelight Theatre and Sole Purpose Productions present a wonderful work of storytelling and physical theatre. With humour and visual poetry, Mohand and Peter will take you on a road trip through Sudan jumping from one character to another, including Omar Al Bashir, Mohand's 450 cousins, and a lazy camel.
Mohand and Peter bounce on one of the toughest international news stories of the decade and as two brave clowns, they fight horror with laughter to build a magnificent pedestal for Mohand's country.
Part of the Platforma festival 2023, produced by Counterpoints Arts and partners across the South West of England.