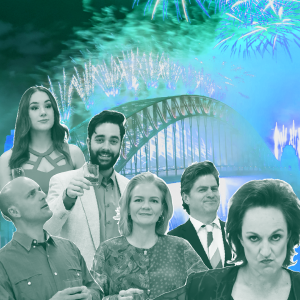 Author: David Williamson
Presented by Free-Rain Theatre Company
Selected dates from 8th - 25th June 2022
- 7:30pm and 2pm
Run time: approx. 2 hours 10 minutes (including interval)
​Winner of the Sydney Theatre Critics Award for Best Play
​Fading screenwriter Colin is not long in Sydney before he's seduced by its obsession with success. Teaming up with well-connected hack writer Mike, Colin finds himself in a tug of war between artistic ambition and big bucks. Fame and fortune – not to mention Mike's criminally hot girlfriend – are up for grabs.
Part love letter, part hate mail to the harbour city, Emerald City is one of the best works by Australian theatre's most beloved craftsman and commentator, David Williamson. Sharp-edged, satirical and accusatory, the play lays into the materialism of the 1980s with a razor wit – a panoramic view of the city that's always prized beauty over brains.
​A fast-moving, wisecracking commentary on contemporary urban mores and morals, and the rivalries and passions to be encountered on the road to success. 
​"It's Williamson at his sharpest and it's often deftly funny….his observations on Australia's cultural cringe and the tensions our artists face ring true." -Daily Review 
​"Williamson's speed of thought, excellent jokes and recognisable Aussie characters and situations have kept him at the top of our heap for nearly 50 years...a rip-roaring satire on the Melbourne and Sydney Arts rivalry and the film and television industries." -Stage Whispers
​"Emerald City sparkles like Sydney Harbour on a sunny day." -Time Out Sydney
Tickets
Adults $42.00
Pensioners, Seniors, Unemployed - $36.00
Under 30s - $30.00
Earlybird (available to all until 8th March 2022) - $25.00
Tuesday performances - $25.00 all tickets
 A $2.20 transaction fee will be added to your booking