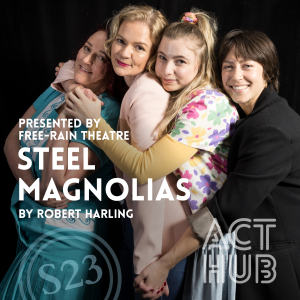 Steel Magnolias is a play with lots of heart and is filled with quirky humour. The characters are genuine and celebrate female relationships in all their complexity. Playwright Robert Harling based "Steel Magnolias", which opened off-Broadway in 1987, on his experiences when his sister passed away.  His title refers to Southern women, who seem to be as delicate as Magnolias, but actually are tough as steel. The vibrant colourful characters Truvy; M'Lynn; Shelby; Clairee; Annelle and Ouiser frequent Truvy's Beauty Salon, the centre of gossip and beauty enhancement in Chinquapin Parish.
In this safe and secure environment, they become sisters and work through pain with laughter and humour.
Written by Robert Harlin
Directed by Anne Somes
Presented by Free Rain Theatre
Featuring: Victoria Tyrrell Dixon; Helen McFarlane; Lainie Hart; Janie Lawson; Jess Waterhouse and Katy Larkin.
Preview Wednesday 10th May - All tickets $35
Opening 11th May - Closing 20th May
7:30pm / 2pm
First In Best Dressed (FIBD) available 11/5 - 20/5
No performances Sunday / Monday.