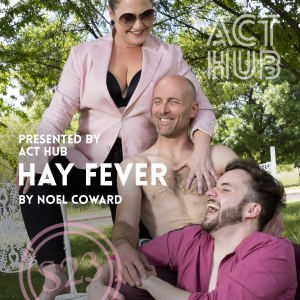 Nine Go Mad in Berkshire!
The Bliss family love intrigue, love arguing and really love a spotlight. They are everything a respectable family ought not to be – unconventional, uncensored and unapologetic. When each of the four outrageously eccentric Bliss family members invites a guest to their rural retreat, the unassuming visitors face a hectic living melodrama from which there seems to be no escape. Deliciously funny comedies were Noël Coward's forte. Hay Fever is a "wonderfully witty and deliciously snarky" (Time Out) classic full of secret seductions, misjudged meetings and wicked revelations.
Written by Noel Coward
Directed by Joel Horwood
Presented by ACT Hub
Preview Wednesday 2nd August - All tickets $35
Opening 3rd August - Closing 12 August
7:30pm / 2pm
First In Best Dressed (FIBD) available 3/8 - 12/8
No performances Sunday / Monday.