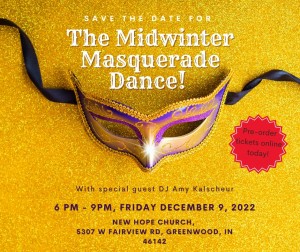 Join us for a magical evening of music, dancing (Amy Kalscheur is our DJ!) fellowship, and fun. Snacks and beverages are available for purchase.
Friday, January 6, 2023 - 6pm to 9pm (NOTE: Rescheduled from Friday December 9, 2022 - 6pm to 9pm)Tickets
$12 plus fee / Family $55 (plus $1.50 fee)
The online Box Office will close at 4:00pm on Friday, January 6 and tickets will be available for $14 and $58 (Family Ticket) at the Door
.