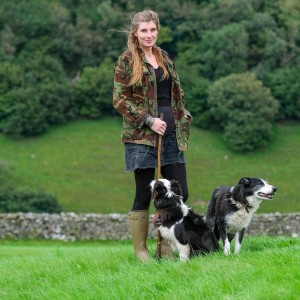 ADVENTURES OF THE YORKSHIRE SHEPHERDESS
Three bestselling books, two hit TV series, 1000 sheep, nine 'free range' children, one husband and an assortment of farmyard animals - life for Amanda Owen, the Yorkshire Shepherdess, is anything but dull!
A Sunday Times bestselling author, Amanda's warm and entertaining accounts of the ups and downs of daily life at Ravenseat, a remote hill farm high in the Yorkshire Dales, have charmed readers everywhere. The hit TV series, Our Yorkshire Farm, featuring the family has captivated more than 2 million viewers each week enthralled by their tough but inspiring way of life.                   
In Adventures of the Yorkshire Shepherdess, the latest instalment from Ravenseat, Amanda brings readers up-to-date with life on the farm. From tackling the long, brutal winter of 2018, to sharing a love of wild swimming with the children, life at Ravenseat is truly in tune with nature.
With Amanda's trademark Yorkshire grit and good humour, this is a charming glimpse into a rural way of life unchanged for generations in this Dales community. 
Amanda will be in conversation with Festival Patron and award winning broadcaster, Jeremy Vine.
FOOD & DRINK MENU  (MUST BE ORDERED AT LEAST 48 HOURS IN ADVANCE)
Today's event menu options are prepared on site by the excellent Skern Lodge catering team, awarded a 5 star food hygiene rating from Torridge District Council. Full details can be found on the Skern Lodge website: 
www.skernlodge.co.uk
£5 each
Option 1: Trio of cakes (GL,D,S,E), with tea or coffee.
Option 2: Trio of gluten free/vegan cakes (S), with tea or coffee.

Menu and allergens may be subject to change. All foods will be labelled upon delivery with the correct allergen information.
Allergen key: GL: Gluten; F: Fish; D: Dairy/Milk; E: Eggs; S: Soya; M: Meat.
Please note: All meals are nut free.