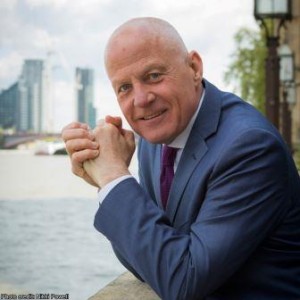 ONE OF THEM

One of Them contains as many multitudes as its author: glorious nostalgia, wicked showbiz gossip, a stirring history of a civil rights movement, a sorrowfully clear-eyed exposition of Britain's standing in Europe, and an unforgettable love story. Told with warmth, wit and humanity, it is an account of a life lived both left-of-field and firmly embedded in the heart of all that makes Britain liberal and good.

Born in the post-war East End of London, young Michael's life is changed when he is spotted in a school play, cast in Lionel Bart's Oliver! and is transported to the glittering West End. Acting on stage and screen into adulthood, he finds his most defining role as Colin in Eastenders, making television history as one half of the first gay kiss ever broadcast on a British soap. But it is a chance encounter in a Butlins resort that leads Michael to the great love of his life: Paul Cottingham, who would become his husband and partner of 31 years.

We follow Michael's second act, as with Ian McKellen he founds and chairs Stonewall, fighting tirelessly for civil liberties all over the world before entering the world of politics. His adventures and misadventures lead him and Paul as far and wide as high tea in LA with David Hockney to flirting with Joan Collins to flying the rainbow flag over the Albert Hall with Elton John. But Michael's greatest triumphs are seasoned with bitter loss – and he continues his ceaseless fight bearing a profound grief.

Lord Cashman has lived many lives, all of them remarkable: as a beloved actor of stage and screen; as a campaigner for gay rights; as an MEP and as a life peer.

Interviewing Lord Cashman will be the Mayor of Northam Town Council, Cllr David Chalmers.


FOOD & DRINK MENU  (MUST BE ORDERED AT LEAST 48 HOURS IN ADVANCE)

Today's event menu options are prepared on site by the excellent Skern Lodge catering team, awarded a 5 star food hygiene rating from Torridge District Council. Full details can be found on the Skern Lodge website:  www.skernlodge.co.uk

£7 each
Option 1: Smoked salmon and brie tart served with tomato, rocket and olive salad, & herb and new potato salad (GL,F,D,E,S), with bottled water.
Option 2: Vegan pesto pasta salad with roasted vegetables, served with tomato, rocket and olive salad, & (vegan and gluten free), with bottled water. 

Menu and allergens may be subject to change. All foods will be labelled upon delivery with the correct allergen information.
Allergen key: GL: Gluten; F: Fish; D: Dairy/Milk; E: Eggs; S: Soya; M: Meat.
Please note: All meals are nut free.