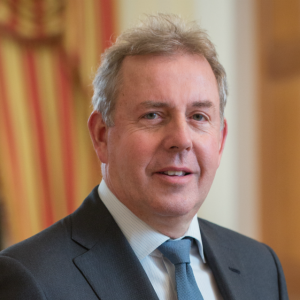 COLLATERAL DAMAGE: BRITAIN, AMERICA AND EUROPE IN THE AGE OF TRUMP
Sir Kim Darroch served as UK Ambassador to the US from January 2016 to December 2019, resigning over leaked cables which were critical of the Trump administration. 
His book,
Collateral Damage: Britain, America and Europe in the Age of Trump
is the first insight into his dramatic resignation, and his view on Washington Politics.
One of the UK's most experienced and respected diplomats, his unvarnished, behind-the-scenes account will reveal the inside story behind his resignation; describe the challenges of dealing with the Trump White House; and offer a diplomat's perspective on Brexit.
As the closest Brit to the story, Darroch explains why the British embassy expected a Trump victory from as early as February 2016, what part every key figure – from Sarah Sanders to Michael Flynn – has played in Trump's administration, and what balanced policy makers on both sides of the Atlantic should consider during this era of seismic change and populist politics.
Sir Kim will be in conversation with Festival Patron and Devon Life Editor, Andy Cooper.
FOOD & DRINK MENU  (MUST BE ORDERED AT LEAST 48 HOURS IN ADVANCE)
Today's event menu options are prepared on site by the excellent Skern Lodge catering team, awarded a 5 star food hygiene rating from Torridge District Council. Full details can be found on the Skern Lodge website:  www.skernlodge.co.uk
£8 each
Option 1: Roasted sweet potato and cauliflower biryani with vegetable and lentil curry (vegan and gluten free), with a bottled of water.
Option 2: Chicken and chorizo paella with crusty bread and green leaf salad (GL), with bottled of water.

Menu and allergens may be subject to change. All foods will be labelled upon delivery with the correct allergen information.
Allergen key: GL: Gluten; F: Fish; D: Dairy/Milk; E: Eggs; S: Soya; M: Meat.
Please note: All meals are nut free.