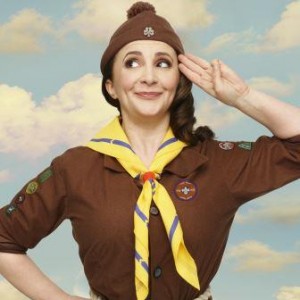 Be Prepared.
Comedian Lucy Porter will bring her brand-new stand-up show to Appledore this evening.
At Brownies, Lucy thought she'd be prepared for anything as long as she had her emergency 10p for a phone box, and knew how to tie a Fisherman's knot. Life turned out to be slightly more complicated than Brown Owl let on.
Be prepared. Be prepared to tie yourself up in knots laughing!  Lucy has made recent TV appearances on shows such as Would I Lie to You, QI and she's also a regular on Radio 4's News Quiz and The Now Show.
This show is due to finish at @ 10pm.
FOOD & DRINK MENU  (MUST BE ORDERED AT LEAST 48 HOURS IN ADVANCE)
Today's event menu options are prepared on site by the excellent Skern Lodge catering team, awarded a 5 star food hygiene rating from Torridge District Council. Full details can be found on the Skern Lodge website: 
www.skernlodge.co.uk
£8 each
Option 1: Roasted sweet potato and cauliflower biryani with vegetable and lentil curry (vegan and gluten free), with a bottled of water.
Option 2: Chicken and chorizo paella with crusty bread and green leaf salad (GL), with bottled of water.
Menu and allergens may be subject to change. All foods will be labelled upon delivery with the correct allergen information.
Allergen key: GL: Gluten; F: Fish; D: Dairy/Milk; E: Eggs; S: Soya; M: Meat.
Please note: All meals are nut free.