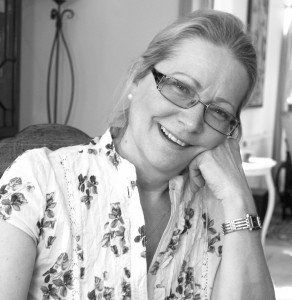 Susan Ronald has some fascinating stories to tell.  Growing up in Los Angeles California, her best friend at school was Joanna – daughter of the iconic Hollywood movie star Burt Lancaster.  She baby-sat for Tippi Hedren's daughter – none other than a more recent Hollywood star, Melanie Griffith; and when she was once playing in a game of baseball, multi award winner, Michael Douglas hit her with the baseball bat in a moment of poor sportsmanship.
Presidents' Nixon and Trump used some 'choice' words when in her company. While Janet Leigh, the star of Alfred Hitchcock's award winning film Psycho, shared some words of wisdom.
As an American-British author, historian and biographer, Susan has many an amazing story to tell, not only about her own life but also of those she has chosen to write about.
Conde Nast is the man behind Vogue, Vanity Fair and GQ. In Susan's biography about the publishing legend, she paints a portrait of the era detailing the life of this extremely powerful man who didn't abuse his power and the family, friends and pivotal business partners who helped him build the first-ever international magazine empire of the time. Credited with creating the "café society," Nast became a permanent fixture on the international fashion scene and a major figure in New York society. His superbly appointed apartment at 1040 Park Avenue, decorated by the legendary Elsie de Wolfe, became a gathering place for the major artistic figures of the time. Nast launched the careers of icons like Cecil Beaton, Clare Boothe Luce, Lee Miller, Dorothy Parker and Noel Coward. He left behind a legacy that endures today in a slew of media powerhouses, namely Anna Wintour, Tina Brown, and Graydon Carter.
Her latest project is a biography about Joseph Kennedy,  U.S. Ambassador to the Court of St. James's in London but also, father to nine children including American President, JFK.  Although this book, The Ambassador, is not being released until 2021, Susan will give us a candid insight into the world of one of the most famous families in America, if not the world - The Kennedy's.
Susan will be in conversation with Festival Patron and well-known broadcaster and presenter, Judi Spiers.
Publishers Weekly
said: 'Ronald writes in a vivid, sparkling, amused style...and revels in the era's repartee, clothes and gossip. ...her evocation of the vibrant scene around [Nast] will keep readers entertained.'

FOOD & DRINK MENU  (MUST BE ORDERED AT LEAST 48 HOURS IN ADVANCE)

Today's event menu options are prepared on site by the excellent Skern Lodge catering team, awarded a 5 star food hygiene rating from Torridge District Council. Full details can be found on the Skern Lodge website:  www.skernlodge.co.uk
£7 each
Option 1: Smoked salmon and brie tart served with tomato, rocket and olive salad, & herb and new potato salad (GL,F,D,E,S), with a bottle of water.
Option 2: Vegan pesto pasta salad with roasted vegetables, served with tomato, rocket and olive salad, & (vegan and gluten free), with a bottle of water. 

Menu and allergens may be subject to change. All foods will be labelled upon delivery with the correct allergen information.
Allergen key: GL: Gluten; F: Fish; D: Dairy/Milk; E: Eggs; S: Soya; M: Meat.
Please note: All meals are nut free.