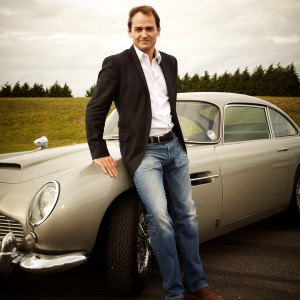 Aston Martin: The Story of a British Icon



WE REGRET THAT THIS EVENT HAS HAD TO BE CANCELLED - PLEASE CONTACT BOX OFFICE FOR FURTHER INFORMATION.
An extraordinary story of spies, lies and hard-driving genius, by the man who was The Stig.
Ben Collins, formerly The Stig from BBC's internationally acclaimed Top Gear, was the benchmark of speed against which hundreds of celebrities set themselves, and the man that everyone – including Formula One stars Nigel Mansell and Lewis Hamilton – tried and failed to beat. He is also the go-to guy for Hollywood car chases (driving as Bond's stunt double in every film since Quantum of Solace), and has raced successfully in almost every class imaginable, from Touring Cars and Le Mans 24 Hour to the American Stock Car circuit.
In Ben's book, Aston Martin: The Story of a British Icon, he explores this magnificent machine from a unique perspective behind the wheel, carving through country lanes in his father's V8 Vantage, driving Aston Martins in four James Bond movies and competing against them in the legendary Le Mans 24-hour race.
The company's first, wickedly fast models were forged at a time when Ferrari's premises at Maranello was nothing but a ploughed field - but this book celebrates a century of characters who created a legend: from the visionary pioneers Martin and Bamford to modern-day genius Adrian Newey; from a glamorous web of pre- and post-war spies and racing drivers, to the achingly beautiful David Brown models beloved of Bonds past and present.
Aston Martin is the story of a triumph of innovation and design that has burned brightly from the Roaring 20s to the 2020s, a driver's love letter to the cars that never say die.
Ben will be live, in conversation via a video link from New York, with Festival Patron and Devon Life Editor, Andy Cooper. 
FOOD & DRINK MENU  (MUST BE ORDERED AT LEAST 48 HOURS IN ADVANCE)
Today's event menu options are prepared on site by the excellent Skern Lodge catering team, awarded a 5 star food hygiene rating from Torridge District Council. Full details can be found on the Skern Lodge website: 
www.skernlodge.co.uk
£5 each
Option 1: Devon and Cornwall sausage hot dog (GL), with bottled water.
Option 2: Vegan and gluten free burger (S), with bottled water.
Menu and allergens may be subject to change. All foods will be labelled upon delivery with the correct allergen information.
Allergen key: GL: Gluten; F: Fish; D: Dairy/Milk; E: Eggs; S: Soya; M: Meat.
Please note: All meals are nut free.