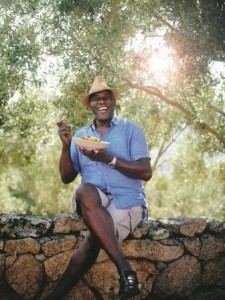 Join us for an extra special evening with cookery legend Ainsley Harriott and Devon band, Gypfunk.
Cookery legend Ainsley Harriot will be live on stage for our exclusive Festival Opening event. Ainsley will entertain us with travel tales and recipes from his new cookery book,
'Ainsley's Mediterranean Cookbook'
, and we provide us with an insight into his hit ten-part ITV1 series of the same name. Following Ainsley will be live music from local Devon band, Gypfunk. And, if you want to order food, there is a fabulous two course meal, from Ainsley's book, available to pre-order and delivered direct to your car.
Immerse yourself in a continental cocoon with the infectious sound of Gypfunk and their curiously engaging French songs with shades of chanson, a drizzle of Balkan-esque cool, a whiff of Bohemian funk, along with some Eastern European delights and Serbian sizzle.
Event starts at 7pm and is scheduled to finish around 9.30pm.
Car ticket includes entry as well as a signed copy of Ainsley's book (RRP £20)
Ainsley will be interviewed by Jo Rees, editor of the South West's Food Magazine:
https://food-mag.co.uk/
MENU:
£17 per person
Main to include a drink:
Chicken Shawarma Wraps with Tahini Yoghurt Dip (GL, D, N, Sesame)
OR
Squash & Sweet Potato Tagine with Lemon & Pistachio Couscous (Vegan, GL)
***
Dessert:
Plum Frangipane Tart (GL, E, almond nuts)
OR
Watermelon, Rose & Pomegranate Parfait (Contains dairy and honey). *Non-dairy cream alternative available upon request.
***
Drink: Moroccan Mint Tea
***
Today's event menu options are prepared on site by the excellent Skern Lodge catering team, awarded a 5 star food hygiene rating from Torridge District Council. Full details can be found on the Skern Lodge website: 
www.skernlodge.co.uk
Menu and allergens may be subject to change. All foods will be labelled upon delivery with the correct allergen information.
Allergen key: GL: Gluten; F: Fish; D: Dairy/Milk; E: Eggs; S: Soya; M: Meat.