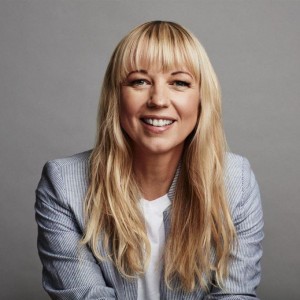 Sara's TV career began with the notorious
The Girlie Show
, and she went on to present numerous shows for the BBC, ITV and Channel 4.   Her most recent TV work includes
The Great Pottery Throwdown
(BBC2),
Back In Time For Tea
(BBC2), and BBC2's dating series
Love In The
Countryside
.  She is also a regular co-presenter of Radio 4's
Loose Ends
, and has written columns for
The Mirror
and
The Guardian
.  
Currently, Sara presents
Drivetime
on Radio 2 and the weekly TV book programme
Between the Covers
on BBC2.
She will be in conversation with Jeremy Vine talking about her memoir
Till the Cows Come Home: A Lancashire Childhood
  and her career in TV and Radio.
The youngest of five siblings, Sara grew up on her father's cattle farm surrounded by dogs, cows, horses, fields and lots of 'cack'.  The lanky kid sister - half girl, half forehead - a nuisance to the older kids, the farm was her very own dangerous adventure playground, a Bolton version of Narnia.  Her writing conjures up a time of wagon rides and haymaking and agricultural shows alongside chain-smoking pensioners, cabaret nights at the Conservative club and benign parenting.  Sara's love of family, of the animals and the people around them, shines through.  Unforgettable characters are lovingly and expertly drawn, bringing to life a time and place.

Till the Cows Come Home is a wonderfully written, funny coming-of-age memoir and not what you'd expect from the original ladette and one of radio's most enduring and well-loved presenters.  
This event is sponsored by North Devon Carpentry