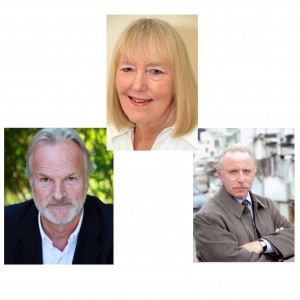 This is a panel event with Hilary Bonner, Clive Mantel and John Lyons.  They are coming together to discuss
Dead Lies
, a fast-moving, hard-hitting political thriller, written by Hilary and starring both Clive and John.  Plus all three will be discussing their latest books.
Hilary Bonner
is the author of 17 crime novels and five non-fiction books.  A former journalist, she is also a past Chair of the Crime Writers' Association.  She will be discussing her latest book,
The
Danger Within
- a David Vogel mystery, as well as her first play,
Dead Lies
- a fast-moving, hard-hitting political thriller.
Olivier Award nominee
Clive Mantle
is a well-loved actor of stage, TV, film and radio.  He is best known as Little John in three series of
Robin of Sherwood
, as Simon Horton in
The Vicar of Dibley
and as consultant Mike Barratt in the BBC's
Casualty
and
Holby City.
  He is also an award-winning children's author.
John Lyons
is regularly on our TV screens playing D.S. George Toolan in
A Touch of Frost
a detective series that ran for 17 years.  He has also appeared in West End musicals, plays and numerous well known TV shows such as Upstairs Downstairs, The Sweeney and
George & Mildred
.  John has now written his memoir -
Not Just George
.
The Danger Within by Hilary Bonner
A seemingly straightforward domestic tragedy leads to something deeper and darker for DCI Vogel and his team in this gripping police procedural.  A man lies dead on the kitchen floor of his comfortable North Devon home, his body punctured by multiple stab wounds. Beside him sits his silent, traumatised wife.  DCI David Vogel reckons he's seen it all before.  A domestic tragedy: an abused wife snaps after years of suffering within a deeply tormented marriage.  Vogel comes to realize that nothing about this case is as straightforward as it seems.  What really happened inside No.11 St Anne's Avenue? 
In the City of Fortune and Flames (A Freddie Malone Adventure) by Clive Mantle
The mysterious world map on Freddie Malone's bedroom wall ripples into life and the swirling vortex begins to form, but is Freddie prepared for where and when it will take him?  Join Freddie, Connor and Ruby as they travel to the plague-stricken and fire-ravaged London of the seventeenth century, where the streets are ruled by a merciless gang of criminals and kidnappers.  Stalked through time by the menacing, shrouded figure of the Collector, can the friends outwit their enemies and save history?  It's all just a question of time.
Not Just George by John Lyons
John started his acting career as a founder member of the 'East 15 Acting School' in 1961 and since then his career has been both long and varied, covering both West End musicals and straight plays, numerous TV apearances, including his role as Sir David Jason's long suffering sidekick D.S. George Toolan in 'A Touch of Frost'.
Not Just George is a memoir by John Lyons, one of the most prolific actors of our time. 
Interviewing Hilary, Clive and John will be Susan Sandon, a Trustee of the Appledore Book Festival and a former Managing Director of Cornerstone, a division of Penguin Random House publishing.

This event is sponsored by Samuels Solicitors.