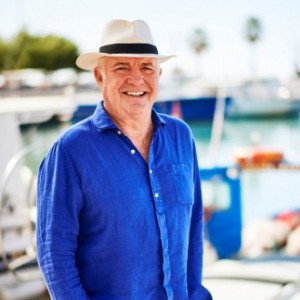 This event has now sold out.  Sorry – our Waiting Lists are now closed.
Ticket holders: for updated information about this event please check your email or contact the Box Office.
Join bestselling cook and food writer Rick Stein, as he chats about his new book - a stunning collection of all-time favourite recipes and essays that celebrate home cooking.  Interviewing Rick about these favourite recipes and his life will be his wife, Sarah Stein. 
Rick has spent his life travelling the world in search of cook­ing perfection - from France and Italy to Australia and the Far East.  In
Rick Stein At Home
, he takes stock of his remarkable life and takes us into the rhythms and rituals of his home cooking.  In his first book to celebrate his all-time favourite home-cooked meals, Rick shares over 100 very special recipes - from family classics that evoke childhood memories to newer dishes that have marked more recent personal milestones.
Sarah is a Festival Patron and has been working in the literary world all of her adult life.  She was a Public Relations Director for Bauer Media, Publicity Manager at Allen and Unwin and then Harper Collins, and has also worked for Penguin Random House, Hachette Australia and BBC Books.
Now, Sarah is a co-owner of Rick Stein Bannisters and a partner in an independent bookstore in Padstow, Cornwall.


This event is sponsored by The Royal George, Appledore