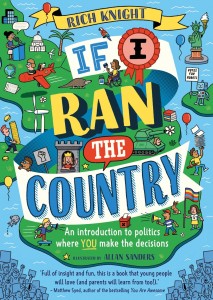 If I Ran the Country: An introduction to politics where YOU make the decisions
You've just become the leader of your own country!  There are a lot of decisions to be made and not long to make them so Rich Knight is here to help.  It's not just about political systems, elections, climate change, justice and all those other things we hear politicians talking about.  You also need to learn how to lead.  With essential life and leadership skills and tips - from teamwork, confidence and compassion to discovering who you are and what you believe in -
If I Ran the Country
answers all the questions most often posed by first-time top dogs like you.  You'll be ruling like a pro in no time.
This event promises to be both interesting and fun!  Suitable for ages 9-12.
Waterstones say:
Placing readers in charge of their own country, this accessible, fact-filled guide to practical politics covers not just the burning issues of the day but crucial pointers on leadership and establishing core beliefs.
This event is sponsored by West Buckland School