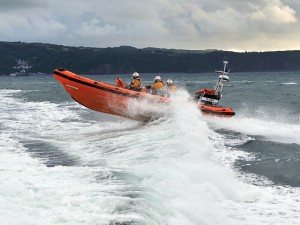 In response to our very first Seafaring Day, a number of local seafaring charities will be on hand to tell you about their work and perhaps pass on some tales of derring-do!  Appledore has many seafaring heroes and even some villains!
Charities taking part are North Devon Maritime Museum, RNLI Appledore, Appledore Maritime Heritage Trust, Way of the Wharves and Steamship Freshspring Trust*.  
No need to obtain a ticket - just turn up
Meet the real-life local heroes of the BBC series, Saving Lives at Sea, These hard working crew members of the Appledore RNLI will sharing their stories with you. 
The SS Freshspring Trust* will be offering exciting Virtual Reality tours of the steamship itself and even a trip down the Torridge  estuary.
Local charities, the Maritime Museum, Appledore Marine Heritage Trust and Way of the Wharves, will be providing an insight into the far ranging seafaring and shipbuilding history of our beautiful Appledore and surrounding estuary.
*On Saturday 17th September, the SS Freshspring Trust will be offering short trips on their steam launch and other children's entertainment on the Quay - more information about these will be available at its stand at the Show & Tell.  These activities will be independently run by the SS Freshspring Trust.