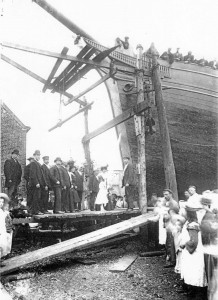 Maritime Heritage on the Torridge Estuary, by Way of the Wharves
Shipbuilding was important on the Torridge but it wasn't the only economic activity thriving along the estuary.  The history of the riverside communities also involves timber, emigration, tobacco, pottery, coal mining, gravel extraction, fisheries, agriculture, energy and enterprise.
The Torridge estuary, on the Bristol Channel in the south west of England, has a history shaped by its geography as well as by national and international politics and events.  This talk, by local heritage charity
Way of the Wharves
, will include stories about Appledore lifeboats that were delivered to and shipped out by train from East-the-Water, a shipwreck on Westward Ho! and gravel extraction from sand banks off Appledore.
This event is sponsored by Royal North Devon Golf Club