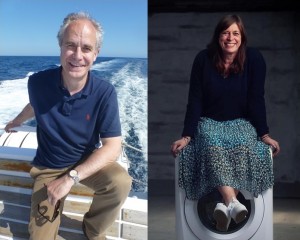 IMPORTANT UPDATE - DUE TO THE QUEEN'S FUNERAL ON MONDAY 19 SEPTEMBER, FESTIVAL EVENTS FOR THAT DAY ARE CANCELLED. 
WE ARE HOPING TO RESCHEDULE THIS EVENT BUT NO DATE HAS BEEN ARRANGED YET, PLEASE WATCH THE WEBSITE FOR FURTHER INFORMATION.
The world's oceans have never faced more challenges – from overfishing, plastic pollution and acidification.  And if that wasn't enough, overfishing is accelerating climate change.  But change is achievable, and change is happening.  
Rewilding the Sea
celebrates what happens when fishermen and communities engage with each other and allow nature to repair the damage.
Charles is a co-founder of
Blue Marine Foundation
, a marine conservation charity.  He made his name as an author and environmental journalist writing principally for
The Sunday Times
and the
Daily Telegraph
for which he was Environment Editor for twenty-two years.
Avril has been involved with the
Cleaner Seas Project
, a Bude-based community group, for 10 years.  Initially founded to create engaging campaigns to raise awareness of microplastic pollution but subsequently getting involved with everything from beach cleans to working with local businesses and hosting conferences.  More recently Avril has become a founding member of the
Cleaner Seas Group
, which was established with the intention of finding practical, scalable solutions for tackling microplastic pollution.  They are in the early and exciting stage of rolling out a microfibre filter for washing machines.
Interviewing Charles and Avril is Martin Kemp.  Martin is an award-winning documentary director for the BBC, Channel Four, Discovery, National Geographic and many more networks.