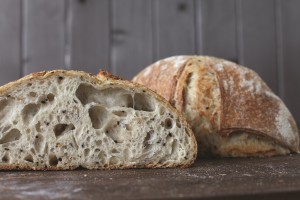 NEW DATE - Wednesday 21 September 2022
3.30pm – 4:30pm
Ticket: £10
WE ARE PLEASED TO ANNOUNCE THAT THE SOURDOUGH EVENT HAS BEEN RESCHEDULED FOR 3:30PM, WEDNESDAY 21 SEPTEMBER 2022.
TICKETS ALREADY ISSUED WILL BE VALID FOR THIS NEW DATE - SIMPLY PRESENT YOUR EXISTING TICKET AT THE SAME VENUE - OUR STEWARDS WILL HAVE YOUR DETAILS.
IF YOU ARE UNABLE TO ATTEND, PLEASE CONTACT THE BOX OFFICE BEFORE 5PM ON TUESDAY 20 SEPTEMBER TO ARRANGE A REFUND (OR IF YOU PREFER, ARRANGE TO DONATE THE TICKET PRICE TO SUPPORT OUR CHARITY).  PLEASE NOTE THAT IF WE DO NOT HEAR FROM YOU BEFORE THE BOX OFFICE CLOSES ON THAT DAY, IT WILL BE OUR UNDERSTANDING THAT YOU WILL BE ATTENDING THIS EVENT.
Sourdough is completely natural and the bread contains only three ingredients: organic flour, water and salt.  It starts with a live 'starter' which is fed and developed in the freshest of sea air.
Learn about the history of breadmaking and find out how to make your own sourdough.  Participants will be able to take away their own sourdough starter.
Please note that this event takes place in Bideford at 13 Allhalland Street.