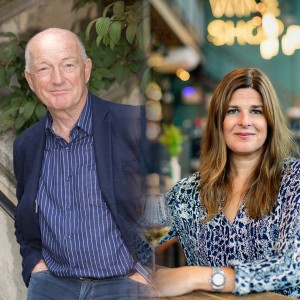 Following the overwhelming success of last year's wine tasting evening, Helen McGinn joins us again, along with her good friend Oz Clarke, for a fabulous afternoon of wine and laughter.  This is the second of two events with Helen and Oz.  Ticket price includes wine, nibbles and 2 Dartington wine glasses.
Helen McGinn is a drinks expert and the author a number of fiction and wine books, including the award-winning The Knackered Mother's Wine Club.  She writes for The Daily Mail's Femail Magazine and appears regularly on BBC1's Saturday Kitchen and ITV's This Morning as their wine expert.
Oz Clarke is the author of many award-winning books on wine.  Alongside his television and radio broadcasts, including Food and Drink, Oz and James with James May, and James Martin's Saturday Morning, he presents a series of concerts, Drink to Music! with the acclaimed Armonico Consort.
This event has now sold out.  Click here to add your name to our waiting list.
This event is sponsorded by Bunny Homes
Wine sponsored by Majestic Wine
Glassses sponsored by Dartington Crystal