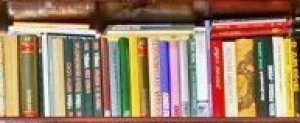 Saturday 24 September 2022
10.00am – 3:00pm
Ticket: £5 day pass (children free - no need for a ticket)
This authors' day is the second event organised by North Devon Authors features debut and children's authors. There will be adult and children authors, publishers and illustrators – and for anyone interested in the art of novel crafting, this day is designed for you.  The authors will be on hand all day to sign books and answer any questions you may have.
Cake and refreshments included.  Doors open at 10:00am and talks start from 10:30am.
Individual talk times are listed here and further details of all authors taking part are listed below:
10.30am - 11.00am: Teresa Tinsley (Murder, Mystery and Betrayal in Spain)
11.30am - 12.00pm: Dr Sam Slattery (How to Make your Body Work for You)
12.00pm - 1.00pm: Kerry-Lynne Slade and Children's Hospice South West (The Pebbleridge Fairy Interactive Trail; Follow the Bear Hunt)
1.30pm - 2.00pm: Chris Taylor (Test pilot Chris Taylor talks about his career)
2.30pm - 3.00pm: John Hayes (Life in a 21st century Greek village)
Children's Authors:
The festivals youngest author
Morgan Wedlake
will be debuting his first novel. Morgan is proof that you can follow your dreams as he weaves a suspensive tale of a group of youngsters whose world around them literally falls apart. How will they navigate the new terrain as they go on a journey filled with danger and what is the universal truth they learn?
If you like horror then
David Watkins
is the author for you. His story telling sends shivers down your spine and gets your heart racing as you turn the pages to discover the fate of the character.
Founder of Pen Works Media
Jody Medland
offers creative writing seminars, cover design, editing and formatting as well as bringing your novel to print and helping you to market and promote it. Jody's latest creation is Spectrum, which delivers five original one act plays, each dealing with a different human emotion and tackling a vast array of challenging themes.
For children, there will be a story session with the author of the The Pebbleridge Fairies,
Kerry-Lynne Slade
and her Illustrator,
J R Ashley.
Her book allows a child's imagination to flourish and to encourage their navigational skills too. There is a trail around Westward Ho! and a certificate for completion.
Triona Harris
's story,
Painting Rainbows
, is a beautifully written, heart-warming and wonderfully illustrated book about nature and a young boy whose community supports him in following his dreams. It has lovely flowing rhyming and is a wonderful educational book.
Come along and discover the heart-warming tales of Archie the dog with
Anne Parsons
. The author was inspired to write her book as she felt passionate about children learning to read at a young age. Anne donates £1 from the sale of every book to the Dog's Trust. 
More canine adventures can be found with
Sharon Brown
and her scribble pad dog and his fun escapades. For every book sold at £5.99, the Dogs Trust charity is donated £1.
Rosie Godfrey
's child's story is a well presented, colourful book with an adventurous, imaginative main character and the accompanying audio CD contains a song, whose lyrics are printed in the book and which also follows the story.
Jennifer Gold
, author of the popular Top Leaf, has teamed up again with
Jessica Gadra
, whose eye-catching illustrations make the reader want to step into the page and join in the fun. A perfect delight for any child – and all of those playful adults.
Throughout September and October,
Children's Hospice South West
is having a bear hunt. The twenty five, 5 foot tall, bears on the trail aren't just beautiful pieces of artwork created by some of the most celebrated local artists, they represent the care that the three children's hospices offer families – they are 'bears to care'.  A life-size version of the bear will be at the event, so pop down and meet him and check out the other bear related items, which all raise funds for the vital children's charity. 
Adult Authors:
Our very own Maverick,
Chris Taylor
is arguably one of the best qualified and widely experienced test pilots working today anywhere in the world, Chris's talk will be incredibly interesting. Chris's first ever novel deals with the testing of more accessible aircraft such as light aeroplanes, autogyros and helicopters, explaining the technical stuff along the way, in a humorous and understandable fashion.
Olli Tooley
will be in attendance with a wide range of books by local authors as well as his own Wise Oak series and the hilarious agent Felix, aimed at younger readers. Olli runs Blue Poppy Publishing; it's ethos is to benefit authors from mutual experience and promotional efforts. If you are a North Devon based author who wants to self-publish but would prefer to do it under an umbrella of an existing imprint come along and speak to Olli, he's very keen to see new voices hit the market and make waves in the literary world. Editing, cover design, formatting, printing, distribution, ISBN, e-books, Amazon listings, publicity are just some of the hurdles faced by authors which Olli can help you manage.
The surrender of Granada to the Spanish monarchs Fernando of Aragon and Isabel of Castile in 1492 is still seen as an iconic moment in the history of Spain. Author
Teresa Tinsley
will be talking about the racy, action-packed story of murder, betrayal, and political intrigue worthy of the Game of Thrones franchise, and the compassion towards the victims of war.
Joseph Witchall
is an illustrator of every genre of book imaginable, from children's picture books, graphic novels, young fiction and poetry, to educational textbooks and adult fiction. He studied animation and his passion for cinema and growing up as a lover of comic books, strongly comes out in his illustration, in the movement and dynamism that he translates into his work. Pop along and check out his inspired artwork or see how he can enhance your own novel.
Mike Lewis
' debut novel will bring you onto the battlefield through the eyes of Welshman William Batine Jones, who is a common soldier in one of the biggest blunders in US military history and the greatest-ever victory by Native Americans over federal troops at the battle of The Little Big Horn.
Another delve into history is with
John Padbury
and the Battle For Hurungwe which is a formidable and detailed account of the nature of the asymmetric war in Rhodesia from 1965 to 1979, presented as a detailed diary of events during the period and an object lesson in the development of strategies to deal with this new form of warfare.
Travel to Greece with
John Hayes
. The Greco Files traces the real-life experiences of a couple of retired British teachers as they fashion a new chapter in their lives in a Greek village as the 21st Century unfolds. The history and geography are set against a background of current issues such as climate change, wildfires, water supply and economic crisis.
Dr Sam Slattery
, an Associate Specialist in Gastroenterology at Musgrove Park Hospital will be joining this years line up. The Body Cooperative, is a ground breaking book explaining how the human body actually works and how to be healthy. In a comprehendible way, it explores the world of psychoneuroimmunology – the science behind your health and lifespan.
This event is sponsored by North Devon Authors - Literary Fusion