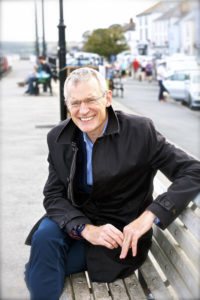 Appledore regulars will have seen the headlines in February —
"Jeremy Vine rushed to A&E after being knocked out in fall from Penny Farthing."
  Luckily he escaped from the accident unscathed, but in the weeks after the eight-foot fall (which apparently looked like an Olympic gymnastics move) he was constantly asked why...
"Why do you ride that thing? Why take the risk?"
In this talk he explains why he's going to keep riding his Penny Farthing — and why he thinks everyone should use one to get around... although Richmond Road might be a challenge.  If you ever wondered what madman would design a bike with a 56-inch front wheel, what the view is like from that kind of height, and above all how Jeremy's life changed when he fell off, all will be revealed!  This promises to be a high energy fun-filled event. 
This event is sponsored by Travel Chapter