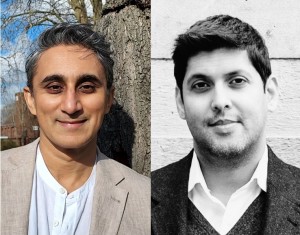 Vaseem Khan and Abir Mukherjee co-host the popular crime fiction podcast, The Red Hot Chilli Writers. 
Abir is the Times bestselling author of the Wyndham & Banerjee series of crime novels set in colonial-era India which have been translated into fifteen languages. He's won the Crime Writers Association Historical Dagger for best Historical Novel, as well as the Prix du Polar Européen, the Wilbur Smith Award for Adventure Writing and the Amazon Publishing Readers Award. On launch, his most recent novel,
The Shadows of Men
, was chosen by The Sunday Times as its Crime Book of the Month and also as one of the best historical novels of 2021.
Vaseem is the author of two award-winning crime series set in India. His debut, 
The Unexpected Inheritance of Inspector Chopra
, was selected by the Sunday Times as one of the 40 best crime novels published 2015-2020.  In 2021, 
Midnight at Malabar House
, the first in the Malabar Housenovels set in 1950s Bombay, won the Crime Writers Association Historical Dagger, the world's premier award for historical crime fiction.  
The Lost Man of Bombay
 is the third novel in the highly acclaimed Malabar House series featuring Persis Wadia, India's first female police detective.
Vaseem and Abir will be in conversation discussing their latest crime books with festival patron and best selling author Ann Cleeves.