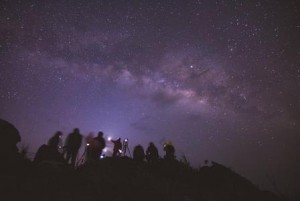 The evening will begin with an interactive presentation all about stars and culminate with observations of the night sky using a mix of high-end telescopic equipment, binoculars, and laser pointer naked eye guidance.
Supported by various South West Astronomical Clubs, including North Devon Astro. Plus, award winning astrophotographer, Pete Richardson's Astro Gallery will be on display.
Note: If it is raining or a cloudy night, the indoor event will still go ahead and external telescopic observations will be substituted with "Ask an Astronomer" in which attendees will be able to view the telescopes up close and ask questions.  Refreshments will be available to purchase.
This event is on 
Thursday 22 September, 9:00pm to 10:30pm
- starting in the Main Marquee at Skern Field.
Another identical event will be taking place on Saturday 17 September, 8:30pm to 10pm - at the Royal North Devon Golf Club.
This event has now sold out.  Click here to add your name to our waiting list.
These events are sponsored by First Light Optics