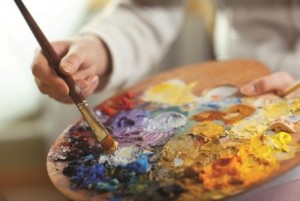 Awaken your creativity and explore the exciting Appledore Book Festival.  Taught en-plein air by our Artist in Residence, Debs Last, we are running five two-hour painting classes taking place outside to better paint and observe the varied locations and activities.
Please bring a sketchbook with you to the class.  Debs offers fully equipped painting boxes for hire on the day.  These boxes are the best way to be able to walk to a location and then paint, providing all the space you need for boards, paints, brushes etc.
The boxes are also available for sale (less any hire charges you have already paid). Alternatively you are welcome to bring your own painting equipment.
Numbers limited to 10 people.
Painting Class 3
Wednesday 21 September 2022
10:00am - 12:00pm
Meet at the junction of Myrtle Street and New Quay Street, near the Community Hall
While the festival continues at Appledore Community Hall, capture it or the historic Richmond Dock.