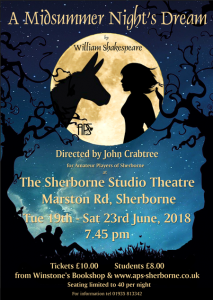 "Lord, what fools these mortals be!"
"The course of true love never did run smooth…"
Some of Shakespeare's best-loved lines, from one of his best-loved comedies which we have chosen to celebrate the opening of the new Sherborne Studio Theatre.  When better, than at Midsummer itself?
The Studio seats only 40, so patrons are urged to book early.​
Preview Performance 18th June - 7.45pm
19th June to 23rd June 2018
— 7.45pm
​Doors open 7.15pm
Tickets ​— 
Adults £10, Students  £8