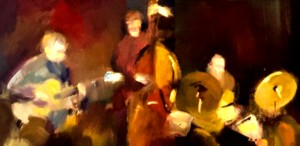 Our popular monthly Jazz club, showcasing a wide variety of different Jazz musicians and styles, from our talented local musicians to well known stars of the Jazz scene.  Join us for a relaxed evening of good music and good vibes on the 4th Thursday of each month. 

This March, we invite you to join us to celebrate the launch of Mike Carey's brilliiant new Jazz album, 'Freedom' played with Big House and friends.

Playing the album for the first time in its entirety, this is a brilliant chance to hear our popular in house band playing new pieces alongside special guests on flute, accordian and trumpet. To celebrate the album launch we will be serving tasty nibbles and bubbles in addition to our usual bar. The album, 'Freedom' will also be available to buy for the first time.

Expect quite simply beautiful tunes, with broad folk and Jazz influences, played with the infectuous lyrical charm which is the Big House trademark. Well known Jazz tunes and brand new numbers all come together with this group of talented friends who play with joy and heartfelt emotion. Expect to be taken on a journey through diffferent styles and seasons, and to come out the other side smiling. 

Mike Carey- Keys        Mike Comber- Double Bass      Steve Cass- Drums     
Clare Nicholas- Accordian    Paul Hodgson - Flute       Jon Wigg- Violin

Join our Jazz community on facebook, where we welcome your comments and photos.

Fully licensed bar.

Doors open at 8pm. Please arrive early if in groups. We don't allocate seating for theis event. 

Tickets: £10

Book Tickets