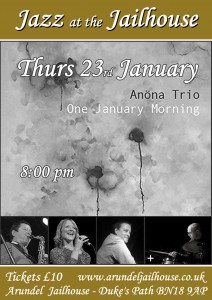 Our popular monthly Jazz club, showcasing a wide variety of different Jazz musicians and styles, from our talented local musicians to well known stars of the Jazz scene.  Join us for a relaxed evening of good music and good vibes on the 4th Thursday of each month. 

This month for our January Jazz club we welcome Anöna Trio to the Jailhouse:
This is a fabulous trio featuring four of the most impressive modern jazz musicians currently working on the UK Jazz scene, singer Imogen Ryall, saxophonist Julian Nicholas and pianist Mark Edwards; the trio is augmented by the creative drumming of Milo Fell. The concept behind the trio follows an invitation for Imogen, Julian and Mark to perform a one off concert in Hove in 2016. The combination worked so well that they decided to record an album, the result of which is the CD "One January Morning", released last June.
 
Imogen, Julian and Mark have worked together in various ensembles for many years and this familiarity with each other's work is evident in the relaxed, playful yet totally engaging rapport that they have between them. The music is based around the CD and is a mixture of classic jazz standards, music from the likes of Wayne Shorter and Brad Mehldau plus originals from the pen of Julian with lyrics provided by Imogen. Julian has had a large body of his original material lyricised by Imogen, who has received accolades not only for her sublime singing but also for her poetic lyrics from the likes of Liane Carroll and Claire Martin. A very special evening from three extraordinary artists.

Join our Jazz community on facebook, where we welcome your comments and photos.

Fully licensed bar.

Doors open at 8pm. Please arrive early if in groups. We don't allocate seating for theis event. 

Tickets: £10