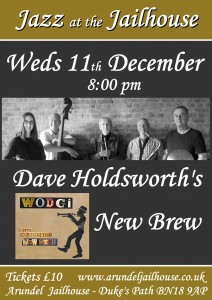 Our popular monthly Jazz club, showcasing a wide variety of different Jazz musicians and styles, from our talented local musicians to well known stars of the Jazz scene.  Join us for a relaxed evening of good music and good vibes on the 4th Thursday of each month. (Rescheduled to Weds 11th for Cristmas)

This month for our December Jazz club we welcome Dave Holdsworth's New Brew to the Jailhouse:

"It's 'fun' and that's a word we hear too little in jazz." ~ All About Jazz

Expect a good mixtuere of grooves and hard-swinging Jazz from this well-known trumpeter. Dave features on many key jazz recordings, and has collaborated with the legendary composer Mike Westbrook, appearing on his debut album 'Celebration' in 1967. Joining him in New Brew is an impressive bunch of musicians- Alan Wakeman and Roz Harding on saxophones, Marcus Vergette on bass and Coach York on drums. 
The music is reminiscent of Ornette Coleman's group with Don Cherry in the 1960s, with open harmonies and strong, singing melodies over a supple, bubbling rhythmic base. The themes have strong echoes of South African and Caribbean jazz with moments of improvisation and surprise which make for lively and interesting listening. 
"If the band appears near you, go" ~ Jazz Journal
Join our Jazz community on facebook, where we welcome your comments and photos.

Fully licensed bar.

Doors open at 8pm. Please arrive early if in groups. We don't allocate seating for theis event. 

Tickets: £10