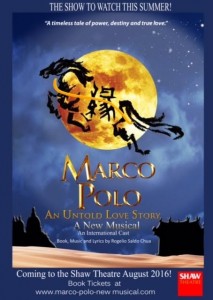 The world premiere of new musical - Marco Polo, An Untold Love Story - is taking place in London this Summer at the Shaw theatre.
This captivating new musical is opening in August for a strictly limited one month season. The musical tells the story of what could be one of the great, untold romances of all time.
Thirteenth century Venetian explorer Marco Polo travelling through Asia meets and falls in love with the beautiful, strong-willed Princess Kogajin, daughter of the great Emperor Kublai Khan.
Marco Polo, An Untold Love Story includes over 20 original scores, combining moving lyrics with haunting, memorable music.
A hand-picked, international cast, includes world-renowned musical star Stephanie Reese in the role of Princess Kogajin.
A poignant East-West story of two lovers from different parts of the world, this is a timeless tale of power, destiny and true love, rich in historical significance.
Be one of the first to see this enchanting and moving new musical.
August 5 to September 4, 2016
Performances at 7:30 PM - Tuesday to Saturday
Performances at 2:30 PM - Saturday and Sunday
No performances on Mondays
Tickets
Stalls £50, Lower and Upper Circle £30
Student price £15 [Please email us to book, or available at the box office]