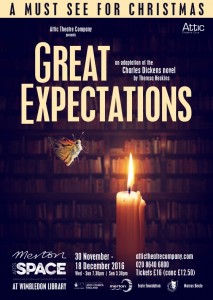 "It was then I began to understand that everything in the room had stopped a long time ago. The clock, the watch, time itself was standing still."
This December, Wimbledon Library becomes Satis House, home to Miss Havisham, Charles Dickens' ghostly bride. Attic Theatre Company presents Great Expectations in the new Merton Arts Space at Wimbledon Library. Directed by Louise Hill and designed by students from the Wimbledon College of Art, Theresa Heskins' adaptation brings Dickens' classic tale of romance, ruthless ambition and revenge to Wimbledon Library.
When Pip the blacksmith's boy climbs out of the pantry window one Christmas morning, he little dreams of the fortune which awaits him. Life as a London gentleman leads him to forsake his old life and friends. But all is not as it seems, and when his past returns to haunt him, will Pip learn the value of knowing who he truly is?
30 November – 18 December 2016, 7.30pm with Sunday matinees at 3pm

Tickets
Full price £16, Concessions £12.50 Groups and previews £10