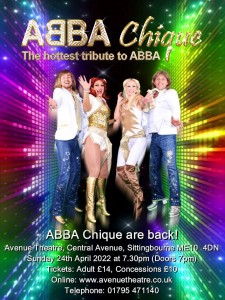 Sunday 24th April 2022 at 7.30pm
ABBA Chique return to the theatre with a fantastic tribute to ABBA - a fun evening, not to be missed!
Tickets £14.00 (Concessions, under 14 & over 60 = £10.00)BOOK TICKETS ONLINE, CLICK ON THE LINK - 6.5% booking fee applicable
Box Office: 01795 471140



*Important information - The lift in Central House is currently out of order – should you require help getting upstairs please contact the theatre in advance. We apologise for this issue which is beyond our control.