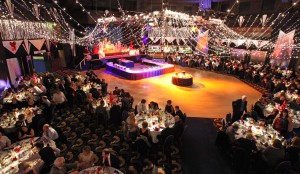 Christmas Carvery Party Night with 3 course carvery dinner, half a bottle of wine per person and DJ entertainment.
Tickets Available -
Deposit Payment - This confirms your booking and is non-refundable
Balance Payment - Final payment to be received no later then 31st October 2022 and is non-refundable
Full payment - Fully pays and secures your booking and is non-refundable
Doors 7pm for 7:30pm Start
Sat 10th December 2022
Fri 16th December 2022
Sat 17th December 2022
Additional Terms and Conditions for this event:
Payment of a deposit confirms both your booking and that you have read the terms & conditions.
Deposits are non-refundable and non-transferable. Party organisers are requested to inform everyone in their party of this policy.
Should your numbers reduce, monies lost cannot be used against wine, drinks or the final balance.
All bookings are subject to full pre-payment by Monday 31st October 2022.
While we will make every effort to accommodate increases in numbers, space is limited and this cannot be guaranteed.
When making payments and/or correspondence of any kind please indicate the name of the party, address and date of event booked.
Once the final balance has been paid, no refunds will be given.
Cancellations of any kind made by the client will result in the loss of any and all monies paid.
In the unlikely event that we feel it is necessary to cancel the event through lack of numbers or for any other reason, an alternative date or venue shall be offered or a full refund will be given.
Bookings of less than 10 may be seated at party tables.
Only beverages purchased from The Beach Ballroom can be consumed on the premises. Failure to adhere to this rule will result in the beverages being disposed of by the management and the guest escorted off the premises.
The management reserves the right to refuse admission and to escort a guest off the premises whose behaviour is deemed inappropriate.
All prices include VAT.
The management reserves the right to amalgamate parties or move events to a smaller room.
If event has to be cancelled due to local or national enforcement of Covid-19 rules or other pandemics, full refund will be provided.