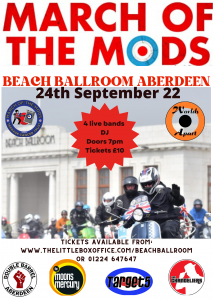 The March of the Mods has been running for nearly 10 year. Events are held all over the Uk and we hope to break the 1 million raised barrier next year.
All artists that perform at the events play for nothing with all the money raised going to the Teenage Cancer trust.
The event now allows the events being held to split the money 50/50 and share the money with a local charity.
We will be doing that this year with half the money raised going towards a local charity that will be confirmed before the event.
Double barrel 
They will have 3 DJs spinning vinyl tunes from the Mod,Northern Soul and Ska genres.

Target5
A 5 piece mod tribute act playing songs from the Sixties and the revival era with songs from the Who to the Jam

The Chandeliers
The Chandeliers are a 14 legged groove machine playing   the best in classic soul, ska and rock n roll!

Moons of Mercury
The Moons of Mercury are a 4 piece instrumental combo who's original material draws inspiration from the best TV and Film themes and soundtracks of the 60's.
Worlds Apart
Purveyors of Sixties Inspired Power Pop!
Doors 7pm Saturday 24th September 2022 £10 + booking fee