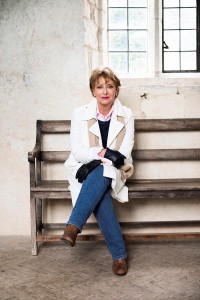 It's 1349 and the Black Death is continuing to plague England - and the quarantined people of Develish, Dorseteshire are starting to question whether they are the only survivors in the country...
As their supplies start to dwindle, the community prepare to head to the outside world, but how will they find safety in a desolated wasteland? Free-thinking serf Thaddeus Thurkell decides to find out. 
He leads a team with the purpose of finding freedom for Develish's people. However, this leads to a life-threatening struggle over power, money and religion... 
Minette Walters is one of the most successful crime fiction writers in the world. Published to critical acclaim in over 34 countries, her last crime novel was
The Chameleon's Shadow
in 2007. 
The Last Hours
saw Minette moving in an exciting direction. She has written an extraordinary historical novel set in 1348, the year the Black Death came to England. The story is brought to a thrilling and satisfying conclusion in
The Turn of Midnight
.
minettewalters.co.uk
Tuesday 25th June 2019 - 2.30pm
Tickets
Adults £10, Students £2
Sponsor: Mrs Jean Edwards