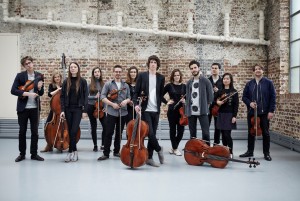 The raw energy, excitement and creativity of a string quartet is combined with the breath-taking sound afforded by twelve brilliant string players in a programme of Vaughan Williams, Grieg and Schubert.
This young, vibrant string orchestra will have you totally engaged in the music with the sheer beauty of tone combined with an almost visceral energy in performance.
The programme may be well known and full of melodies you know but you will never have heard the works played with this level of commitment, exhilaration and passion. This will be a magnificent finale to the 2019 festival.
Programme:
Vaughan Williams - Fantasia on a Theme by Thomas Tallis
Grieg - Holberg Suite
Schubert arr.Mahler - Death and the Maiden
Polished readings…with rapt expressiveness
- Sunday Times
The 12 ensemble render the entire programme with fearless resolve. An impressive debut
- Gramophone Magazine
www.the12ensemble.com
Sunday 30th 2019 - 7.30pm
Tickets
Adults £20, Students £8
Sponsors: 

Friends of Beaminster Festival, Mr and Mrs Ron Emett, Mr and Mrs Hugh Lindsay, Dr l.Murray Rose, The Thorpe Family (in memory of Bernard Thorpe)