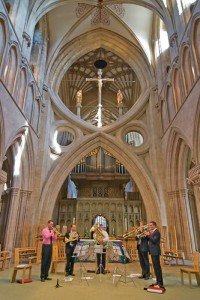 Director Paul Denegri
A CAVATINA Concert
Specialist Musicians from Wells Cathedral School present a concert of brass music.
The glorious acoustics of St Mary's Church come into their own when the Gabrieli Brass Ensemble give an authentic performance of Gabrieli and Biber using voice and period instruments.  In the second half Cathedral Brass will play works including Bizet's L'Arlésienne, Jim Parker's A Londoner in New York and a selection of Russian and English folk music.
The talented young brass players from Wells Cathedral School include members of the National Youth Orchestra, the National Youth Wind Ensemble and the National Youth WInd Orchestra and many of their 2018 leavers have won scholarships to music college both here and abroad.
wells.cathedral.school/brass-news
Listen to them play
Sunday 24th June 2018 - 7:30pm
Tickets
Adult £15, Under 25 Free
Friends' concert
PROGRAMME NOTES

Natural Trumpet Ensemble
Sonata Sancti Polycarpi - Heinrich Ignaz Biber (1644 - 1704)
Sonata a7 - Heinrich Ignaz Biber (1644 - 1704)
Natural Trumpets: Jacob Griffiths. Darcie Jago, Eliza Talman, Gregory Steward, Matthew Whitehead, Danni Woodnutt. James Law, Jesse Musson
Trombone: Helena Kieser Timpani: Daniel Watt Organ: Bruce Fang
Trombone Ensemble
Sancta Maria - Amante Franzoni (1575 - 1629)
Trombone Sonata for Four Trombones - Daniel Speer (1636 - 1707)
Trombones: Adele Potts, Meggie Murphy, James Moore, Stephen Mai, Alex Froggatt
Horn Sextet
Four Movements from the Water Music - George Frideric Handel (1685 - 1759) arr. Leigh Martinet
Allegro
Vivace
Minuet
Allegro Deciso
Josie Whale, Queenie Chan, George Andrews, Luke Tarleton, Edward Lapham, Lizzy Wood
Brass Quintet
Motet - Carlo Gesualdo (1566 - 1613) arr. Peter Maxwell-Davies
Summertime from Porgy & Bess - George Gershwin (1898 - 1937) arr. Roger Harvey
Summer Dance - William Mathias (1934 - 1992)
Trumpets: Gregory Steward, Ben Wili Horn: Queenie Chan
Trombone: James Moore Tuba: Jacob Potts
Brass Quintet
Three English Folk Songs – Trad. arranged Paul Denegri (1962 - )
When The Boat Comes In
Barbara Allen
Early One Morning
Trumpets: Jacob Griffiths, Darcie Jago, Horn: George Andrews
Trombone: Meggie Murphy, Tuba: Ethan Bray
INTERVAL
Bach Trumpet Ensemble
Suite for Trumpet Ensemble
A Fanfare for Friends - David Heyes
Aria from Freischutz - Carl von Weber (1786 – 1826) Variations on a Theme of Paganini arr. Don Casal
Trumpets: Danni Woodnutt, Eliza Talman, James Law, Isaac Wiessler, Matthew Whitehead, Miranda Green
Brass Quintet
Killer Tango- Sonny Kompanek
Just a Closer Walk - Trad arr. Don Gillis
Puttin' on the Ritz - Irving Berlin (1888 - 1989) arr. Stephen Roberts
Trumpets: Jacob Griffiths, Darcie Jago, Horn: George Andrews
Trombone: Meggie Murphy, Tuba: Ethan Bray
Dectet Brass
A Londoner In New York - Jim Parker (1934 - )
Echoes of Harlem
Chrysler Building
Grand Central
Central Park
Radio City
Kalinka, Katuisha, Do Not Waken My Heart – Trad. Russian Folk Tunes arranged Paul Denegri (1962 -)
Trumpets: Jacob Griffiths, Darcie Jago, Jesse Musson, Eliza Talman
Horn: Josie Whale, Trombone: Adele Potts, Meggie Murphy, James Moore,
Alex Froggatt, Tuba: Jacob Potts