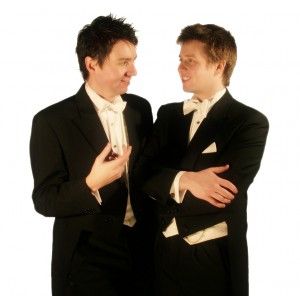 Piano and Organ Concert
A CAVATINA Concert
Jonathan Scott, organ and Tom Scott, piano, present an extraordinary dramatic concert of orchestral transcriptions.  Their virtuosity and seeming telepathy is breath taking and the programme includes the Magic Flute Overture by Mozart, The Warsaw Concerto by Richard Addinsell, Grieg's Peer Gynt Suite and Liszt's Hungarian Rhapsody. This is certainly a concert you won't forget!
www.scottbrothersduo.com
Listen to Tom and Jonathan play Liszt
here
Wednesday 27th June 2018 - 7:30pm
Tickets
Adult £15, Under 25 Free
Sponsors: Mr and Mrs Jeremy Scott 'It doesn't matter whether you know the music or not, the sheer enjoyment and energy of the Scott Brothers Duo makes you feel as though you do, and is knockout!'
  Chi-Chi Nawanoku, BBC Radio 3
PROGRAMME NOTES

Scott Brothers Duo
Jonathan Scott - Organ
Tom Scott-Piano
Wolfgang Amadeus Mozart (1756-91) arr. Scott
Overture to The Magic Flute K.620
Claude Debussy (1862-1918) arr. Scott
Prélude à l'après-midi d'un faune
Richard Addinsell (1904-77)
Warsall Concerto
Charles François Gounod (1818-1893) arr. Scott
Meditation - Ave Maria
Pietro Yon (1886-1943)
Finale from 'Concerto Gregoriano'
INTERVAL
Vittorio Monti (1868-1922) arr. Scott
Czardas
Edvard Grieg (1843-1907) arr. Scott
Peer Gynt Suite No.1 Op. 46
I Morning Mood
II Death of Åse
III Anitra's DanceIV In the Hall of the Mountain King
Tom Scott (b.1981)
Timepiece (2013)
Franz Liszt (1811-1886) arr. Scott
Hungarian Rhapsody No.2
Finally, to bring tonight's concert to a close, we perform Hungarian Rhapsody No.2 by Franz Liszt. Liszt was born in Hungary and always thought of himself as a Hungarian, even though he left the country when he was ten years old. He made a study of Hungarian music and based his Hungarian Rhapsodies on the model of the czardas. The melodies that Liszt uses are not genuine gypsy folksongs but attempts to evoke the atmosphere and excitement of traditional gypsy music in a virtuoso composition. Liszt's original piano version was written in 1847 and this evening's version for piano and organ by Jonathan Scott creates a virtuoso showpiece for both instruments.