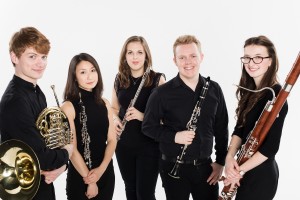 Wind Quintet with Piano
A CAVATINA Concert​
The sublimely beautiful Mozart Quintet for piano and four winds in E flat opens this delightful programme by the talented and ambitious Magnard Ensemble.  Leo Geyer wrote the oboe solo whilst staying in Stoke Abbott a few years ago. The charming Poulenc Sextet brings this wonderful concert of the best of wind chamber music to an exuberant end.
During the 2014/2015 season, the ensemble simultaneously held a Chamber Music Fellowship at the Royal Academy of Music, as well as the inaugural joint fellowship between the RAM Open Academy and Wigmore Hall Learning. Currently the Ensemble are selected artists for the CAVATINA Chamber Music Trust, the Tillett Trust Young Artist Platform and the Tunnell Trust.
The Magnard Ensemble are giving our local school concerts and will also perform Revolting Rhymes and Marvellous Music with Rebecca Kenny. This family concert will be held in the Public Hall on Saturday 30th June.  
www.magnardensemble.org
Listen to the lovely Mozart Quintet K452 - you'll know it!   
https://bit.ly/2qFpNBQ
Friday 29th June 2018 - 11:30am
(Coffee served from 10.30am)
Pre-coffee Concert – Beaminster School
Tickets
Adult £10, Under 25 Free
Supported by the Tillett Trust



Sponsored by 

Mr and Mrs Philip Crawford and Mr and Mrs Charles Blundell 
PROGRAMME NOTES

Suzie Clements – Flute
Mana Shibata – Oboe
Joseph Shiner – Clarinet
Jonathan Farey – Horn
Catriona McDermid – Bassoon
Pavel Timofeyevsky - Piano
Mozart (1756 - 1791)
Quintet for Piano and Winds in E flat major K.452
Largo - Allegro moderato
Larghetto
Rondo: Allegretto
Leo Geyer
Stoke Abbott for solo oboe (2010)
Firelight
Hilltop
The Deer
Francis Poulenc (1899-1963)
Sextet for Piano and Wind Quintet FP 100
Allegro vivace
Divertissement: Andantino
Finale: Prestissimo