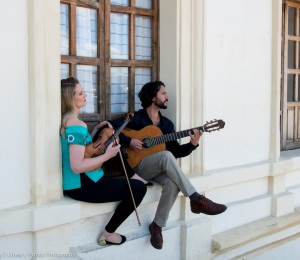 Vida la Vida con Frida
Lizzie Ball, Show Creator, violinist and vocalist and Morgan Szymanski, our resident guitarist, present a fascinating meander through the life, times and art of the iconic Mexican artist Frida Khalo.
Using projection of her art as illustration, they have chosen evocative music that would have been background to the tumultuous relationship between Frida, Diego Rivera and even at one point, Trotsky.  This will indeed be a scintillating taste of Mexico for the eyes, ears – and the bar willing - for our tongues as well.
If you are an artist, check out the Frida Khalo inspired workshop at Bridge House on Tuesday 26th.
www.morganszymanski.co.uk
www.lizzieball.com
Friday 29th June 2018 - 7:30pm
Tickets
Adult £15, Student £2
Sponsored by Mrs Carol Dixon
PROGRAMME NOTES

Lizzie Ball - Show Creator and Violinist
Morgan Szymanski - Guitar
A musical journey through the life, times and art of Mexican painter and female icon, Frida Kahlo. Created by Lizzie Ball, with special guest Morgan Szymanski.
La Llorona
trad. Mexican song
Tenochtitlan
Julio Cesar Oliva
Ciuden su Vida
Manuel Ponce
La Zandunga
trad. Mexican
Cielito Lindo
 trad. Mexican, arr. Oliva
Llorona (full version)
trad. Mexican
Nuages
Django Reinhardt
Valentina
 trad. corrido ballad
Viva la Frida (themes of Madonna and Coldplay)
Arranged by Susie Winkworth
Estrellita
Manuel Ponce
All arrangements by Lizzie and Morgan unless stated otherwise