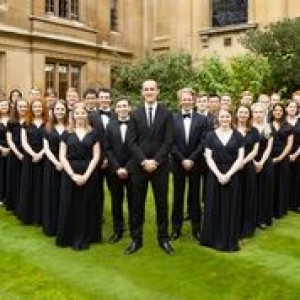 Musical Director Graham Ross; Organists: Eleanor Carter and Ashley Chow
The Choir of Clare College Cambridge is an internationally famous choir who will be singing some of the most beautiful works in the choral repertoire in a programme in praise of music itself.  Works from Purcell to MacMillan include settings in praise of St Cecilia, alongside English madrigals and part songs. The programme also includes Blest pair of sirens in this, Parry's centenary year, as well as the most virtuosic of Bach's celebrated motets, his double-choir Singet diem Herrn.
www.clarecollegechoir.com
Sunday 1st July 2018 - 7:30pm
Tickets
Adult £18, Student £8
Sponsors: Mr and Mrs Ronald Emett, George and Carol Eyre, Mr John Greenbank, Dr Murray Rose.'Thrillingly fresh and feisty singing of the Choir of Clare College, Cambridge'
 Hilary Finch, The Times
PROGRAMME NOTES

'Sing, sing, ye heavenly choir!'

Graham Ross Conductor




Eleanor Carter, Ashley Chow Organ

The evening's programme spans five centuries of choral works that celebrate the joy of the human voice and music itself
Herbert Howells (1892–1983)
A Hymn for St Cecilia
Adrian Batten (c. 1591–c. 1637)
O sing joyfully
Henry Purcell (1659–95)
O sing unto the Lord a new song
James MacMillan (b. 1959)
A new song
Michael Tippett (1905–98)
Dance, Clarion Air
Benjamin Britten (1913–76)
 Jubilate Deo in C
Johann Sebastian Bach (1685–1750)
Singet dem Herrn ein neues Lied
Interval
Traditional
Sumer is icumen in
Thomas Weelkes (1576–1623)
Sing we at pleasure
John Bennet (1575–1614)
All creatures now
Edward Elgar (1857–1934)
There is sweet music
Arthur Sullivan (1842–1900)
The Lost Chord
Ralph Vaughan Williams (1872–1958)
Linden Lea (A Dorset Song)
Ralph Vaughan
Williams Antiphon
C. H. Hubert Parry (1848–1918)
Blest pair of sirens
William Harris (1883–1973)
Bring us, O Lord God
Edward Naylor (1867–1934)
How shall I sing that majesty?
Ward Swingle (1927–2015)
Country Dances