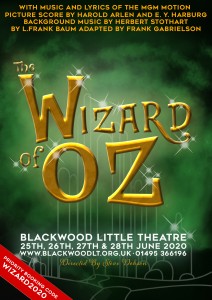 The Wizard of Oz - by L Frank Baum, adapted by Frank Gabrielson
June 25th, 26th, 2020 at 7pm
June 27th & 28th at 230pm 
All Tickets £12  Group Ticket (4 Seats) £40
Early Bird Offer £10 Single Tickets and Group Ticket (4 Seats) £35 Until Feb 29th 2020
On General Release from Monday 9th Dec 2019

The Wizard of Oz is a colourful fantasy musical. It provides family entertainment containing many familiar songs like "Somewhere over the Rainbow" and "Follow the Yellow Brick Road". Dorothy finds herself over the rainbow in Munchkin land following a cyclone. Her house has squashed the Witch of the East, leaving her loved and admired by the Munchkins but hated by the Wicked Witch of the West, the sister of the Witch of the East. Whilst following the yellow brick road she makes acquaintance with a brainless scarecrow, a heartless tin man and a cowardly lion.  The four journey on together to meet the Wizard but he isn't everything that they expect! A timeless classic with a moral twist.
Dorothy lives on a farm in Kansas until a cyclone arrives, and picks her, her house, and her dog up and deposits them in the land of Oz. Things in Oz are strange and beautiful, but Dorothy just wants to get back home. She begins to travel to the Emerald City where a great wizard lives and on her way she meets a Scarecrow who needs a brain, a Tin Man who wants a heart, and a Cowardly Lion who desperately needs courage. They all hope the Wizard of Oz will help them. Dorothy is helped by the Good Witch of the North, but she's also sought by the Wicked Witch of the West, who seeks revenge for the death of her sister; the Wicked Witch of the East, for which she blames Dorothy. After many twists and turns, Dorothy returns to Kansas knowing now that "there's no place like home".
PLEASE NOTE: