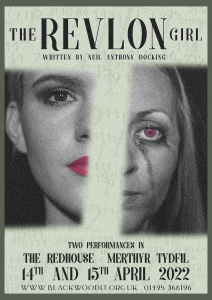 The Revlon Girl by Neil Anthony Docking  - New Redhouse Dates for April 2022
 All tickets purchased will be valid for new dates.  

April 13th and 14th 2022
7.30 pm at Merthyr Redhouse
March 26th 2020 (April 13th 2022) & March 27th 2020 (April 14th 2022)
All tickets £10 
Set eight months following Aberfan Disaster of 1966 (in which 144 people were killed; 116 of them children) The Revlon Girl tells the real life story of a group of bereaved mothers who met every week above a local hotel to talk, cry and even laugh without feeling guilty.
At one of their meetings, the women looked at each other and admitted how much they felt they'd let themselves go. So afraid that people would think them frivolous, they secretly arranged for a representative from Revlon to come and give them a talk on beauty tips.

Please note that strong language is used throughout this production and it would be advised for over 16's only. 

Any ticket queries please contact us via email info@blackwoodlt.org.uk and one of our volunteer team will get back to you as soon as possible.