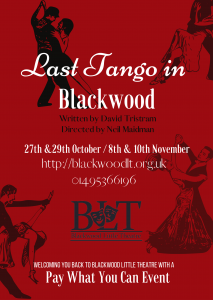 Welcoming You Back to Blackwood Little Theatre 
After the difficulties of 2020 / 21 we are delighted to welcome back our patrons to our lovely theatre to enjoy a short evening of comedy with the award winning, Last Tango in Blackwood.  
This hilarious comedy will be showing for 4 nights over a few weeks.  Our capacity has been reduced so that we can accomodate people in a safe manner, with socially distanced seating and we are asking our patrons to abide by our simple Covid safe guidelines.  
There is no charge for coming along on the night....its a pay what you can event....donations on the night would be much appreciated.
Last Tango in Blackwood was first performed by Blackwood Little Theatre in March 2008 when it won the Gwent Festival.  It went on to win the Wales Final that year and came very close to winning the British Final 2008. 
Directed by Neil Maidman, this production will have two casts performing on different dates - please see social media for details. 
Performance Dates: 
27th and 29th October 2021
                                   8th & 10th November 2021
Performance Time: 730pm 
Doors Open:7pm.