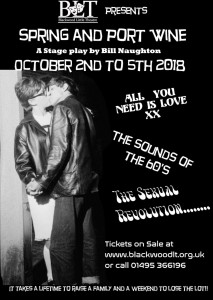 Spring and Port Wineby Bill Naughton
October  3rd, 4th, 5th  2018 
730 PM - Doors open 7pm PLEASE NOTE - There is no longer a performance on Saturday 6th October.  All patrons who have booked tickets will be contacted.  Spring and Port Wine
 tells the story of a patriarchal battle of wills in a small Bolton household between obdurate Rafe Crompton and his children, chief among them his daughter who defies him by refusing to eat a plate of herring one evening, leading him to serve it up for her day after day.  Set in the Swinging Sixties, this play was also a hit film with James Mason.  Sounds of the Sixties included.   
Tickets  £7.50