Cinderella - A Family Pantomime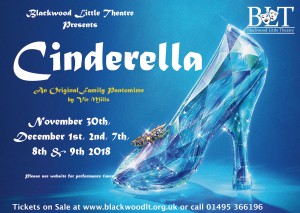 Cinderella - A Family Pantomime by Vic Mills
November 30th and December 7th at 7pm
December 1st, 2nd, 8th & 9th at 230pm. 
All Tickets £12  Group Ticket (4 Seats) £40
Early Bird Offer £10 Single Tickets and Group Ticket (4 Seats) £35
The Handsome Prince, lonely in his palace in Grove Park has no idea of the love and the Nando's he will come to share, with Cinderella, daughter of Baron Hard- Enough of Cefn Fforest. As the Ugly Sisters flaunt their wares on the show field on the day of Blackwood Show, the Prince's darts team gathers at Wetherspoons, ready to take on the bad boys of the Cross Oaks. The Prince plans a great party, invitations going out to the badlands of Argoed, the wild untamed lands of Oakdale and Pen-Y-Fan but not to the forbidden territory of Wylie! A very traditional Cinderella for all the family, with the most hideous Ugly Sisters, the loveliest Cinderella and the most Handsome of Princes with lots of audience involvement, hilarious jokes to suit grandparents, parents and kids, favourite songs and all with a very modern and very Blackwood twist, is rolling into town at Blackwood Little Theatre this December!!

PLEASE NOTE: 
All persons entering must have a valid ticket and this pantomime is not suitable for under 3's
The theatre has no provision for the storage of prams or strollers/pushchairs - we apologise for this, but we are a little theatre, and space is at a premium. 
The Theatre reserves the right to cancel the performance at short notice due to unforeseen circumstances, such as dangerous and adverse weather conditions for the safety of the audience, cast and volunteers of Blackwood Little Theatre. 
Book
Venue Blackwood Little Theatre
5 Woodbine Road
Blackwood
Gwent
NP12 1QJ